Proper greasing of your Mitsubishi LZP laser ball screw can save you time and money!
A recent Mitsubishi LZP laser ball screw PM call serves as another case for proper greasing and inspection.
We've written a few photo captions and posts about why checking your lube lines and greasing your linear motion system properly is essential to peak performance of your CNC equipment. We've also explained how regular clean. flush and inspections extend the life of your ball screws. Here, we have another example from a Mitsubishi LZP laser 3015.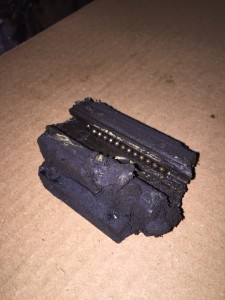 Our sister company, Richardson Precision North Central began a recent service all as a clean, flush, and inspection. However, when the RPNC service techs saw the way guide rails had been damaged due to incorrect greasing (and using the wrong type of grease), it was quickly apparent the rails need to be replaced.
The preventive maintenance service call turned from a PM to a salvage job. Rail system parts typically take 6-8 weeks to come in, and this doesn't include the down time of having to schedule to repair itself. Our goal was to help the customer remain operational on this Mitsubishi LZP laser until then.
The Richardson Precision North Central team was able to get the machine to limp along by repairing the way guide block as best we could. In addition to the clean/flush, we put new parts on – including replacing the worn ball bearings.
So, how can you avoid maintenance surprises and the expensive replacement of parts? 
Depending on the number of hours you run your laser CNC machine, a clean/flush and inspection might be something done every 1-2 years. However, this doesn't replace the need for monthly check on your lube lines and ensuring you are using the correct grease.
If you have never had a clean/flush or inspection of your ball screw assembly, reach out to a reputable ball screw service company in your area. The Richardson Precision family of companies provides on-site service nationwide, and we're proud of our high percentage of repeat customers who rely on us for their ball screw service needs.
Contact us for more information about our services.
(This post originally appeared at www.cncballscrewrepair.com and is reprinted with permission.)